If you are curious to know the answer to the question that Can a Laptop be Tracked after Factory Reset then this post is for you.
We all know that a laptop can be easily misplaced, and with the recent trend of people storing their laptops in their backpacks, it's not surprising that they would fall into the hands of thieves. So how can you track your laptop if it's lost or stolen?
You can track the laptop after a factory reset if you installed software like Absolute Software's LoJack for Laptops before the laptop is reset.
But with the help of Absolute software, you can track even after factory reset. But the only condition is that you had installed the software before the laptop goes missing so that even if the thief deletes the operating system even then it can be tracked.
By using Absolute Software's LoJack
When LoJack is installed on a laptop it is not possible to detect its installation on the laptop. This sends the location information of the laptop to the Monitoring Center of Absolute company. If you report that my laptop has gone missing their recovery team can track the location of the laptop. Other features include that the data on the laptop can be remotely deleted to protect personal information. 
If this is embedded in the firmware of the computers by the vendors, LoJack would not be deleted even when the operating system is reinstalled, or the hard drive is reformatted. However, you need paid subscription for this.
Absolute software is embedded in number laptop brands. List of laptops that are compatible with Absolute can be found here.
In case you own a Dell laptop you can purchase Absolute software here.
If your laptop has gone missing or has been stolen then there are a number of remedies to track your laptop before it is reformatted or reset. The detail is as under:
By using PreyProject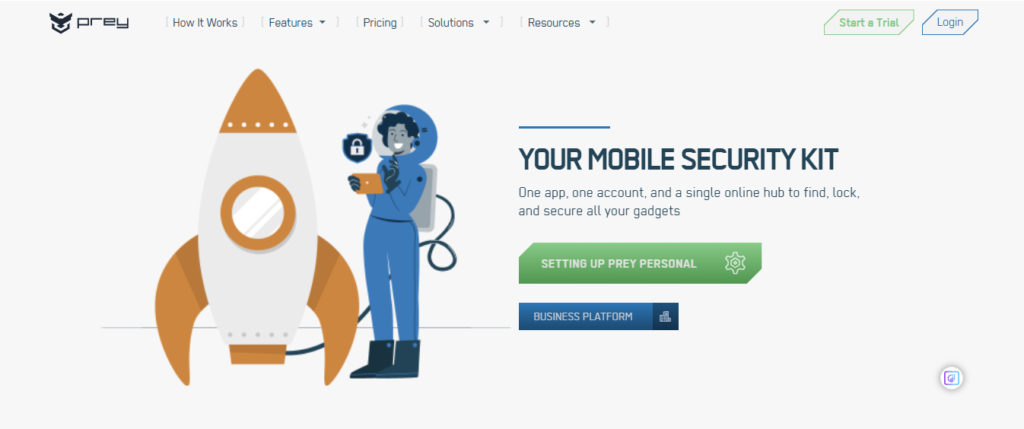 Another way you can track your stolen laptop is using one of the most popular software called PreyProject.
This software is required to be installed and configured on your laptop to track it before it is reported missing. This software would report the location of the laptop before the laptop operating system is the factory reset. 
With Prey, you can beep the alarm on your laptop or can lock your laptop remotely. You can also delete your data from the laptop remotely.
By Using Adeona
Adeona is free open-source software that can also be installed on the laptop. It would monitor the IP address when the laptop is connected to the internet and sends back the location information to track the missing laptop.
By using ID or MAC address
One way to track a laptop is by using its hardware ID or MAC address. Each laptop is assigned unique identification number called MAC address which identifies the device on the internet. This identifier can be used to track a device, even after a factory reset. If the device is being used on the same network. However, tracking becomes almost impossible if the laptop is not being used on the same network.
You can get detailed information about tracking laptop using MAC address on our post titled: How to Track a Laptop Using MAC Address
By using IP address
Another way to track a laptop is by using its IP address.  The IP address is a unique number that is assigned to every device that connects to the internet. This IP address can be used to track the device, even after a factory reset.
By using the Find my Device service of Windows 10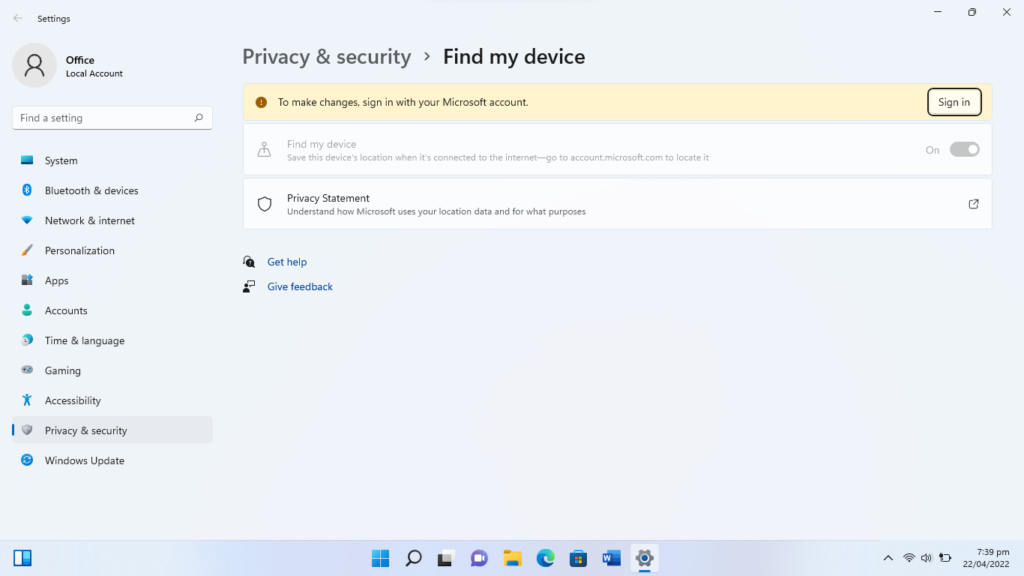 "Find my device" feature available in Windows 10 can also help to track a stolen laptop. The Find my device feature works only with Windows 10.  If the laptop is using Windows 8 or Windows 8.1 then you cannot use this feature. 
The Find my device feature can be enabled on the device by going to Settings > Update & security > Find your phone or tablet > "Turn on" 
You can send message on the laptop screen to return the laptop to its owner.
You can lock the screen of the laptop remotely.
You can erase the data from the laptop. 
By using Laptop serial number
By using this was you can track your laptop by using the laptop serial number. I had written a detailed guide on this. You check the details in our post titled How to track a stolen laptop with serial number.
By using Find my Mac
In case you had MacBook their service is called Find my Mac. But for this to work you should have activated the location service before the laptop goes missing. 
By using Gmail
If you were using Gmail on your laptop before it is lost then you can track the IP address which was accessed.
For this purpose, you can open Gmail then on the bottom right click details and check account activity.
By using DropBox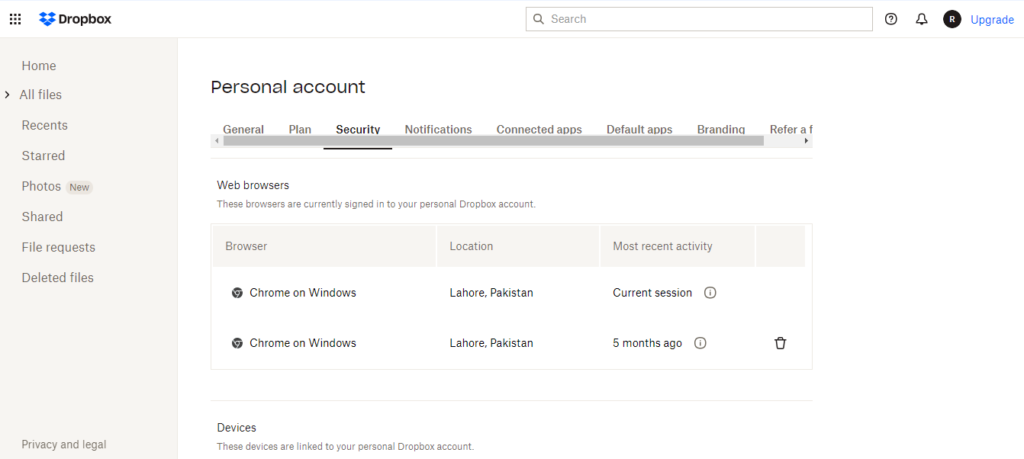 Dropbox is another effective way to track the IP address. Whenever a laptop on which Dropbox is installed accesses the internet it will record the IP address. In this way, you can discover the location of the laptop and the internet provider.
For this, you need to sign in to dropbox.com then click your avatar, settings, and security. Then hover over to the question mark next to the device to check the IP address that was last recorded for that device. 
The Bottom Line
The purpose of putting all this information was to help you understand the different options available for tracking laptops after factory reset.
Now that you know how to track after a factory reset, therefore, it's time that you take precautionary measures and install any software that you like or switch on the available services on your laptop before it's too late.
Best of luck not losing your laptop ever!
Questions Related to post Can a Laptop be Tracked after Factory Reset
Can data be recovered after a factory reset on laptop?
Factory resets are often used when a device is no longer working correctly or when you want to sell it. A factory reset will erase all of the data on the device and return it to its original settings. But can data be recovered after a factory reset on a laptop?
There are a few ways to recover data after a factory reset on a laptop. One way is to use a data recovery program. There are also programs that can restore the computer to its original state if you have backed up your files. If you have not backed up your files, there may still be hope. Some people have been able to recover their data by using software that accesses the hard drive directly. Most popular software for this purpose include EaseUS Data Recovery Wizard, Recuva and Disk Drill. Another effective software to recover data from formatted Hard disk is Tenorshare. This can be used to recover data from Windows operating system and Macbook.
However, if you have completely erased the hard drive, your data is gone for good.
How to track a laptop without internet
If the stolen laptop is not connected to the internet then it's quite difficult to track the laptop.
How to make a stolen laptop untraceable?
There are number of ways which stolen laptop can be untraceable.
One way is to format the Hard Disk and install a new operating system on it. During this process it should be ensured that no tracking software like Absolute software is installed or enabled on the laptop.
Other way is to use a VPN service when laptop is connected to the internet so that laptop cannot broadcast correct location or IP address making it untraceable.
As you can recover a stolen laptop by tracking its location through a software installed on it before the theft therefore, it is necessary that precautionary are taken well in time.
Other Articles: